12 Jul

THE MADRAZA

On Oficios street, very close to the Royal Chapel and the Cathedral, we find a building of baroque façade known as the Madraza.
In the Muslim world the word Madraza (madrasa) means Advanced Studies Center or University. In addition to Koran, in these centers law, Arabic, literature and philosophy was taught. This education was provided to the religious and cultural elite, from whom the rulers found their best civil servants. The building dedicated to Madraza always had an oratory, classrooms, library and bedrooms for students.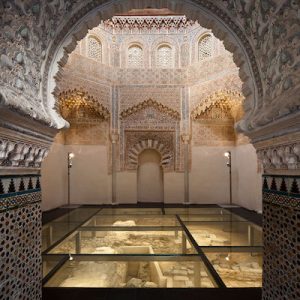 The Madraza of Granada was founded by the monarch Yusuf I (1318-1354) in 1349, and was the only one for public use in the Iberian Peninsula. This institution maintained its educational functions until the end of the 15th century. At the beginning of the following century and after the conversion of the Mudejars 1 from Granada to Christianity, the Catholic Kings donated the building to the council of Granada, which designated the Madraza as the location of its first city hall. From that time on the transformation of the Nazarí building began.
In the middle of the 19th century, the city hall was moved to its current location in the Plaza del Carmen, and as a result the old Madraza passed into private hands. Finally, in 1943 the building was bought by the University of Granada. Currently the Madraza is the headquarter of the Cultural Extension of the University, where conferences are held by the Classroom of Poetry, Novel and Theater, and the Royal Academy of Fine Arts of Granada.
The original Nazarí building underwent relevant modifications over the centuries in order to adapt it to new functions and new artistic trends but, despite this, its oratory with octagonal dome and the mihrab have been preserved. In the Archaeological Museum of Granada a white marble tombstone with epigraphic inscriptions that belonged to the façade of the Madraza is preserved.
The Madraza is just a few minutes walk from the hotel Monjas del Carmen.