12 Jul

THE ROMAN GRANADA

The Arab history of Granada is well known, but many other civilizations left their mark in this beautiful
city. We now turn to the Roman presence in Granada.
In Roman times, the city was crucial to the broader organization of the territory and, at the same time,
an efficient means to expand Roman culture and civilization.
Granada was no exception. Known to the Romans as "Iliberis", Granada formally became a city around
27 A.C. and under the official name of "Florentia Iliberritana". The city's forum and its political,
administrative, religious, and economic centers have been found at the archeological sites that surround
the Minas Square. From there, the city expanded all over the Albaicin.
Besides the Albaicin the city included areas for agricultural, livestock farming, and craft activities.
Archeologists have found remains of ovens, pots, and agricultural tools, among others, in different
locations of modern Granada such as Cuesta del Progreso, Calle Alhondiga, Calle San Anton, Camino de
Ronda and Cartuja.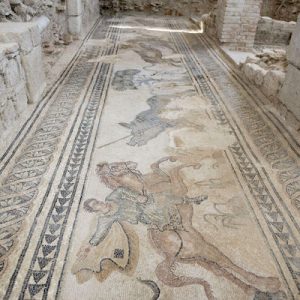 The villa was a very characteristic element surrounding Roman cities. These were large agricultural and
food processing centers that deployed a variety of equipment such as mills, ovens and vessels. Villas also
served as luxury homes for affluent citizens. During the urban expansion of Granada in the 1960s and
1970s and the more recent construction of the subway, several villas surfaced, including the ones found
in Calle Primavera or in the old central bus terminal. Without a doubt, the most important discovery was
the so-called Villa de los Mondragones, located on the right bank of the River Beiro, on the site of an old
military residency. In I D.C., the Villa had a large agricultural production devoted primarily to olive oil,
and its mill was found in wonderful conditions. Today, the mosaics of the Villa de los Mondragones can
be visited at the Museo Arqueológico de Granada.
The work of historians and archeologists helps us better understand Granada's Roman past, yet it is still
a largely unknown episode in the city's history. What is this void due to? To answer this question, we
need to go back to the XVIII century and La Ilustración (Spanish Enlightenment), when interest emerged
in learning about history in ways free from legends and traditions. Importantly, this was the period when
archeological excavations began in the newly discovered cities of Pompeya and Herculano under the
patronage of Charles VII of Naples—future Charles III of Spain (1759-1788). News from these
excavations and their magnificent findings generated immense interest among Europe's cultural elite,
including Granada's.
In the mid XVIII century and amidst this context of great interest and excitement for history, Juan de
Flores y Odduz, an expert in history and antiquities of the Classic period, acquired a prominent status in
Granada. He had found a magnificent Roman mosaic nearby the Minas Square, a site of superior
archeological quality with pedestals, capitals, and other Roman objects. His discoveries had a great
repercussion in the city and Flores gained much popularity and status as a result. Emboldened by this
success, however, he buried several objects, some of them fake, in some of the excavation sites. When
such irregularities were discovered, Juan Flores was indicted and, in 1763, sentenced to bury all of his
findings. Afterwards, Roman Granada was forgotten by most, merely a faint and uncomfortable memory
amidst a reduced cultural elite. And it remained as such until the second half of the XX century, when
historians and archeologists turned their interest and studies towards the Roman past of the city in
more systematic ways. It is only because of this most recent work that today we know aspects of Roman
Granada, however much more remains hidden underneath its stones.